LG 12/8 kg Fully Automatic Front Loading Twin Wash Washing Machine (FH6G1BCHK6N/F8K5XNK4, Stainless Steel)
1.818 $
Description
TrueSteam?
99.9% Allergens Reduced
TrueSteam? technology activates Allergy Care, Steam Refresh and Steam Softener?. Improve your quality of life by maintaining a healthy, allergen-free environment.
6 Motion DD
Optimal Wash for Fabrics
Select a wash program and 6 Motion Direct Drive technology moves the wash drum in multiple directions, giving fabrics the proper care while getting clothes ultra clean.
Invert Direct Drive
Less Vibration, Less Noise
Not just one but two high-efficiency Inverter Direct Drive motors enhance washing performance but without the noise. Inverter DD technology uses fewer moving parts, which reduces vibrations and enhances durability. Plus, the motors dissipate less energy, reducing electricity consumption.
Washer and Dryer in One
LG's all-in-one washer and dryer is another of our leading appliance technologies. Save space in your home and make more room for your family. LG's combination washer and dryer lets you get your clothes sparkling clean and dry too without the need for a separate dryer.
Save Water, Save Time with EcoHybrid
EcoHybrid technology with Energy A rating saves water or shortens the drying cycle. Select either Eco dry mode, which uses no water for drying, or normal dry mode to shorten the entire drying cycle and reduce energy costs.
*Tested by LG Lab,based on 6kg of EU standard load,220 times per year.
**0l/kg for condensing,1.5l/kg for filter cleaning only.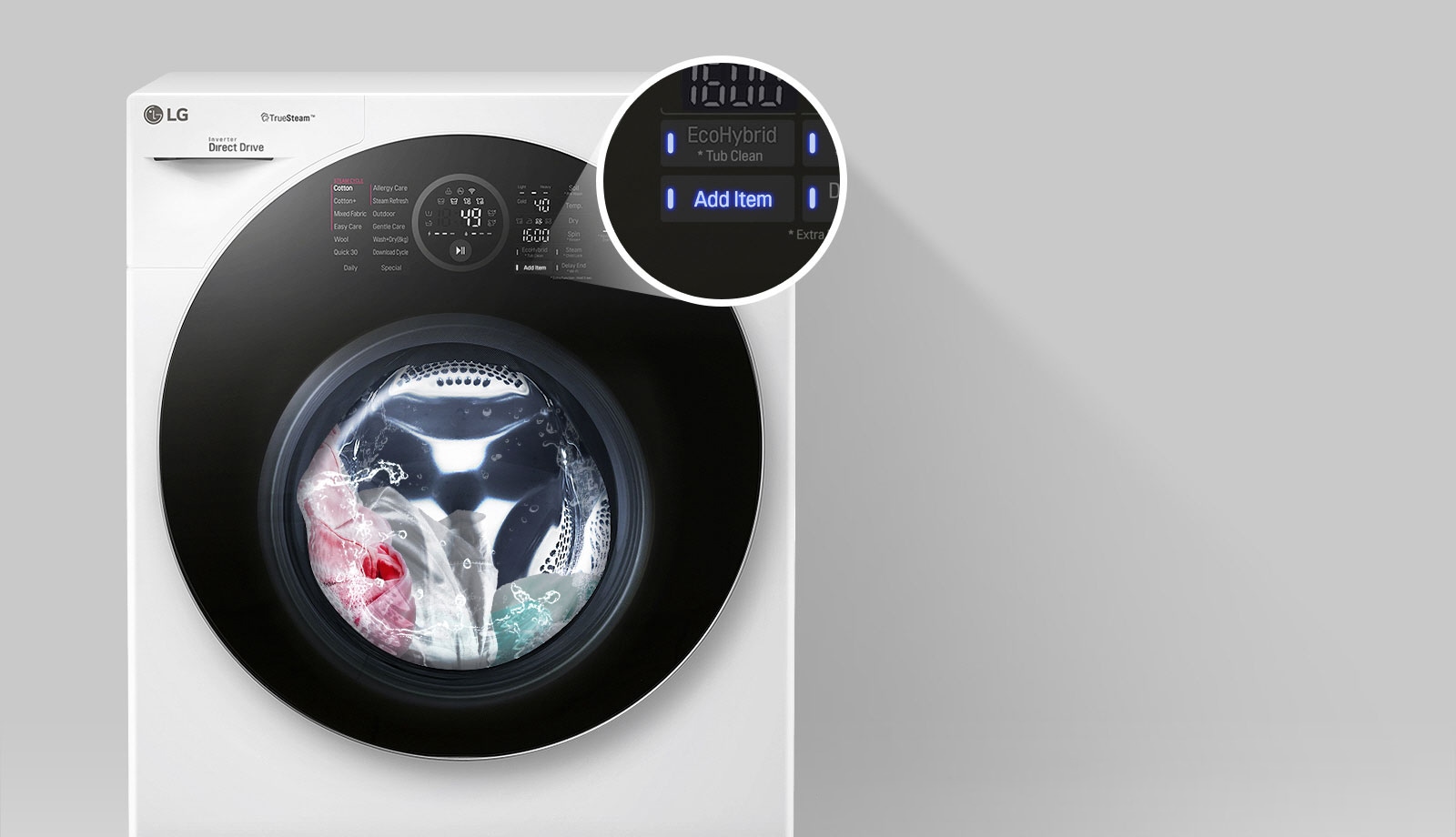 Add Item
If you forget a piece of laundry, you can still add it after the start of the wash cycle. The LG TWINWash? is equipped with an "Add Item" button that lets you open the door during washing to add any stray items.
*Depending on the clothes amount and fabric type,door lock may not be released.If water temperatures is higher than 40?,door lock is not released for safety.
**Release duration time is less than 3 seconds.
Smart Convenience with WiFi
SmartThinQ? technology lets you operate or monitor your laundry from anywhere, anytime. You can track energy consumption or use Download Cycle to add a whole range of newly developed wash cycles during the washing machine's entire lifespan.